Excavator became stuck when it was sent to rescue Tipper Truck
This post has already been read 1652 times!
The large excavator that had been doing remodelling works with a tipper dumper on Weston super Mare beach when they got into difficulty both machines are owned by contractor M J Church which were part of an earth moving team carrying out sand re-profiling works.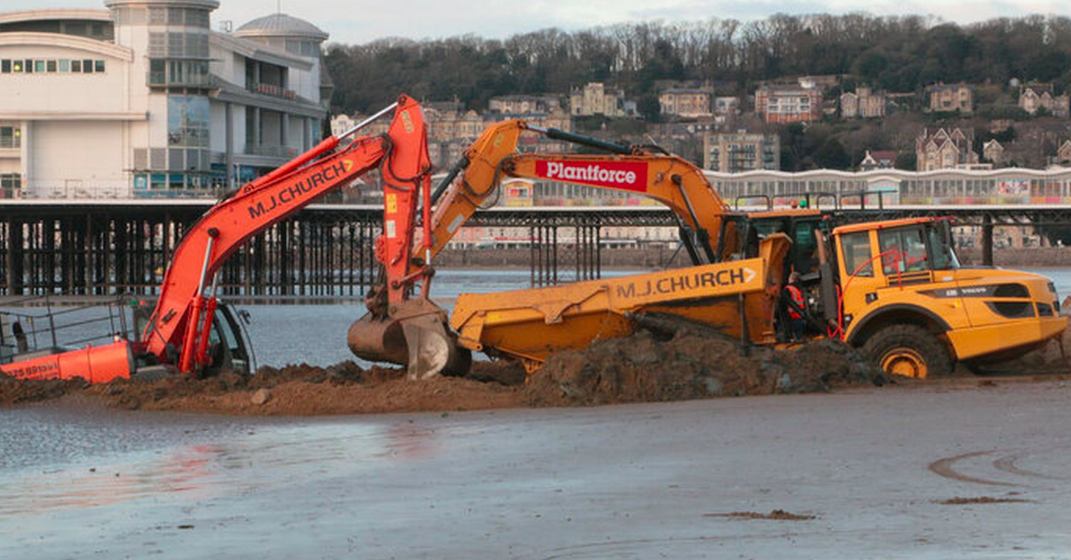 Rescue services were called after the excavator became stuck on the beach while trying to save a stranded truck from the incoming tide.
The digger was sent to the front at Weston-super-Mare, in North Somerset on January 5 to help a tipper truck that got into trouble only to get stuck itself.
The excavator managed to get the tipper out but the digger remained in place this morning  after recovery attempts were abandoned last night due to the high tide.
Pictures show that police were called, who warned onlookers that they should not stand and watch.

Weston-super-Mare and Worle Neighbourhood Policing commented saying that: "The Town Centre Team are currently dealing with a stranded digger on the beach.
M J Church made a segment to the Weston Mercury  saying that :"Two vehicles moving sand on the beach got stuck – the larger vehicle was successfully recovered but the other one could not be retrieved before last night's high tide."
North Somerset Council said attempts to rescue the digger were still underway.